The best way to grow your business and increase sales is by reaching a wider audience with an optimized website. 93% of all online activities start at the search engine, so it's safe to say that optimizing your site for users will help you achieve this goal more than anything else.
The benefit of international SEO is that it can increase your website's traffic by targeting a larger audience. Some of the biggest markets outside of the United States are in countries such as Brazil, India, and Japan. But what about Europe? By localizing and targeting additional languages you can capture more share of voice for your products or services.
In this guide, we are going to talk about the importance of international SEO, and how you can grow your business by applying Hreflang tags. We will discuss best practices related to it as well as when they should be implemented for maximum success!
What is International SEO?
You know what SEO is; now apply the same concept to a global audience, and you get International SEO.
International SEO is the process of optimizing the website, so the search engines can identify the countries that you are targeting and the language that you want to use for your business.
Some of the best International SEO practices include:
Localizing your content by creating language-specific versions of your website
Linking to local content,
Hosting your site on a local IP,
Building links for local resources,
Connecting with local publishers to get more GEO based backlinks
Making use of Hreflang tags to provide search engines with clear localization signals
What is a Hreflang Tag?
In simple terms, Hreflang Tag is a snippet of code that helps tell Google which language should be used according to the audience's location. Meaning that it makes sure that if a search came from an area with a particular language, they see the result in the same language and not in any other language.
It is also referred to as:
rel="alternate" hreflang="x.unique"
This way, you do not have to worry about the language of your website; it is handled by Google and the Hreflang tag that you added. Adding a Hreflang tag is a little tricky, but it can reap many benefits if done correctly.
Are you still concerned about the benefits of using Hreflang tags? Have a look at some of the most prominent advantages that the Hreflang tag offers you.
Benefits of Hreflang
Hreflang tags are added as an essential part of international SEO because they boost your content. You can use Hreflang tags to localize the content for a particular language and region and target it towards a single language variant.
But the real benefits of Hreflang tags are listed below:
Better User Experience
User experience involves the design and other aspects of a website. It also includes how the content created specifically for an audience is delivered to them. In this case, when the content is provided to an audience in their language, it will resonate and engage more with them, leading to a better user experience. Furthermore, this also means a lower bounce rate and increased page rankings.
Prevent the Duplication of Content
Duplication of content has always been a significant issue faced by many websites. While you are trying to rank better on the search engine's search results page, you always try to avoid the duplication of content at all costs.
While you would wonder that the same content when shown in different languages, it is possible to face duplicate content issues, affecting the page ranking. Another great benefit of Hreflang is that it helps avoid the penalties linked to duplicate content across global sites.
Hreflang vs. Canonicalization
You must be putting in extra effort to avoid duplicate content, a significant SEO issue, and wonder if Hreflang will cause a problem regarding this. In International SEO, the same content is delivered to the audience in their language, but Hreflang helps avoid this problem.
However, both Hreflang and Canonicalization are slightly different.
Hreflang mentions that search engines about the page should be shown to the user based on their language and region.
On the contrary, canonicalization helps the search engine by mentioning which version of the URL should be indexed where there are different variants of the URL containing the same content.
Now, let's move on to the part of implementing Hreflang tags.
Ways to Implement Hreflang Tags
There are primarily three ways to implement Hreflang Tags. Just an add-on that no matter which way you choose, it is vital to use a Hreflang tag on an absolute URL.
HTML Tags
HTTP Header
XML Sitemap
HTML Tags
The first is the HTML Tags. It is easy to alert Google for the language and region variations of the page through HTML tags. It can be done by adding a link element to the HTML header section to mark a particular language easily. This is a valuable option if your website lacks a sitemap or cannot specify an HTTP response.
HTTP Header
Use the HTTP header to indicate a different language while publishing PDFs or other non-HTML files. HTTP header is used with the page's GET response to tell about the language and the variants.
It is essential to specify Hreflang values for all the page versions to avoid missing out on any page.
XML Sitemap
A simple way to add the information related to language for all the URLs is by submitting it to your sitemap. Various examples can help you understand how this way can tell the search engine that your website caters to people from different regions.
This way, your sitemap will have three identical child entries for all the language and region variants of the page.
While you decide on using these tags, you might face errors with Hreflang tags. Therefore, below you will find a list of the different problems related to Hreflang tags.
Hreflang Tag Errors
Even if you have practice with different aspects of technical stuff while dealing with your website, you may make some mistakes while working out to use Hreflang tags. Some of the most common Hreflang Tag errors are:
Incorrect incoming Hreflang annotations.
This is an error when the URL has one or more incoming Hreflang annotations that are incorrect. This can occur due to an invalid region or language code.
Incorrect Language codes
Ensure to include the language codes that can be used to identify the language and the region that is ISO 639-1 format. If you only specify the area, that will not be enough.
Missing Return Links
If page one is linked to page two, then page two should be linked back to page one. There are chances that if pages do not have appropriate return links, annotations can be misinterpreted.
Invalid Outgoing Hreflang Annotations.
This simply means that the URL in focus either has one or more than one outgoing Hreflang annotation as invalid. By invalid, it means that the language or region code is invalid.
There might be many other errors, but these are the most common and frequent ones that keep on showing up. For debugging Hreflang errors, you can always consult Google search console and international targeting reports to help you.
But before you do so, make sure that Google had enough time to crawl all the pages, later go to the Languages tab and check if any errors were detected.
Guidelines by Google
So, to help you, Google provides a list of guidelines to help you while you set up Hreflang tags.
It is essential to add the original and the language variations as well.
The alternate URLs used should be thoroughly qualified.
The alternate URLs don't have to be in the same domain.
You should always consider adding a fallback page for all the unmatched languages, especially for auto-redirecting homepages.
As mentioned above in the standard errors, if two pages do not tend to point to each other, there are chances that the tags are ignored. This action helps prevent someone else from creating a tag using another site and naming it as an alternate version of the original webpage.
It is recommended to have a catchall URL for geographically unspecified users of a language.
While it is challenging to maintain an entire set of bidirectional links for all the pages, and even when you omit some languages on some pages, Google tends to process the ones pointed to each other. In this case, you must link newly expanded language pages bidirectionally to the original language page.
Moreover, if no languages match, it is recommended to use reserved value hreflang="x-default" in this case. Another good use is to target your site's homepage to a clickable map that enables the user to select their country easily.
Important localization tips
Since you are dealing with the language aspect of an entire webpage or multiple web pages, it is vital to keep some of the best practices in mind while doing that:
Ensure that all the content on your website, including site navigation and help desk, is present in the region's primary language that you aim to target.
Avoid machine translations; they are not good enough to be trusted entirely.
Redirecting a user to a different language based on his location is not suitable at all. You should suggest an alternate language site to choose the language they want to view the site.
Another strong recommendation is to avoid using cookies or scripts that show versions of a page in different languages. Search engines do not crawl the type of dynamic content they provide, and the users cannot see it at all.
Want to keep an eye on your website's SEO 24/7?
If you want to catch SEO issues before they have a chance to sabotage your search engine rankings or traffic be sure to check out Hexometer.com
Hexometer works in the cloud and provides 24/7 peace of mind continuously monitoring your website for availability, performance, user experience, SEO, health, and security issues before they affect your customers.
Key Takeaway
When it comes to international SEO, you're not only competing with the same websites in your own country but all around the world. As such, localizing your website for specific countries is essential if you want to rank highly on Google and the other search engines used around the world.
We have found that implementing hreflang tags and implementing international SEO best practices can be an effective way of optimizing rankings for different regions.
---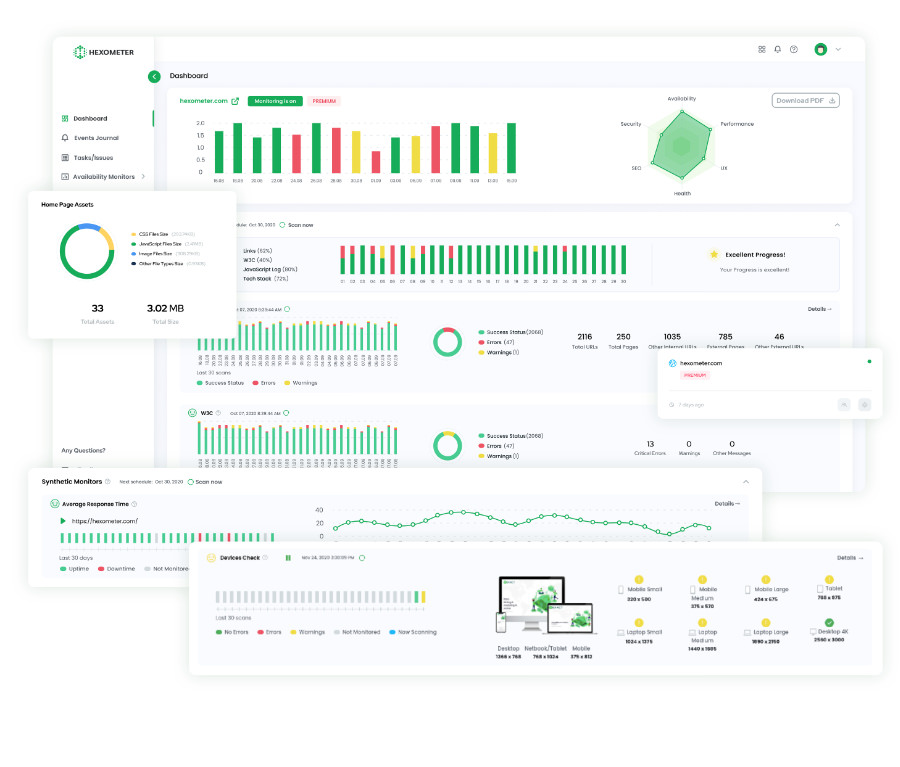 Marketing Specialist | Content Writer
Experienced in SaaS content writing, helps customers to automate time-consuming tasks and solve complex scraping cases with step-by-step tutorials and in depth-articles.
Follow me on Linkedin for more SaaS content