Everyone running their websites wants it to rank among the top in the search engine results. And while they are all making efforts to increase their SEO rankings, they might be missing out on an important factor. The fact that it takes months to ensure that your content is SEO optimized.
But at times, due to various reasons, there is a possibility that your SEO rankings can drop. There are multiple reasons something like this occurs. There can be onsite and off issues involved or reasons other than these.
However, there is no need to worry about it at all. Today, we will be discussing why your SEO rankings are dropping and what you can do about it. Let's start!
What is on-page SEO important to SEO rankings?
SEO stands for search engine optimization. It refers to all the activities carried out to drive traffic towards the website through organic search. It is essential that your website has quality content posted on it. This means that the content is search engine friendly, and contains internal and external links. 

On-page SEO is an mportant part of your website and it's not just about keywords. It includes content, images, metadata tags, headers and other features that are crucial to search engine optimization. On-page SEO can help with rankings for any size company because it creates a better user experience by providing better content to users.
In this article we'll explore 17 factors that can affect your SEO rankings and how you can prevent these from sabotaging your efforts to reach the top 10 spots for your desired keywords.
Factors contributing to SEO rankings
The search engines consider many factors for ranking a website on their search result. All these factors or a combination of most of these results in the website ranking in the search results.
A safe and well coded website
Although this is a factor, everyone usually pays attention to, even if the SEO ranking factor is not included. You would not want your audience to come to a partially built website. Or someplace where people cannot understand what you might have written.
It is essential that your website has a proper URL. And is not just safe but is proper and accessible while we are talking about it. This also helps the search engine bots like that of Google easily access and crawl it.
The search engines visit the URL and look at the content present on the website. Ensure that you have a well-coded website and a proper sitemap listing all the pages of your website. You should also have a robots.txt file, which helps it look for the relevant content.
Mobile-friendly website
Many people are now shifting towards mobile phones, which means that the websites being created should be mobile-friendly. They should open up on mobile phones, but opening up on mobile phones is not enough.
The most important thing is that the website should be mobile optimized. All the content and the design should be adjusted regarding the various screens of the mobile phones present. The font's appropriate size, accessible menus should be the priority when optimizing the site for mobile.
Now search engines check that the website is mobile-friendly before ranking it at the top of the search results. Spend a fair amount of time ensuring that your website is mobile optimized at all times.
Website Speed
The speed of a website is another important factor considered for SEO ranking. Search engines like Google tend to make sure that they improve the user's experience through pages that load faster.
Some different online tools and websites can help you track your website's speed. They can also help you analyze and improve the existing issues. For starters, you can try Google Search Console to learn more about the website's speed and different ways to improve your website's speed even better.
Optimized Content
Now and then, the most talked-about element is the content. The content is as essential as any other element when talking about SEO rankings. Various factors add on to make the perfect content for any platform. It is one of the vital search engine ranking factors for SEO rankings.
But the content is not just simply added to the website; there are smaller elements that get together to make the best-optimized content for the website.
By SEO-optimized content, we mean that it primarily includes all the essential keywords. Google and other search engines rely on keywords because they provide your website relevance and help them gather all the right information for you.
Another thing that contributes to making the best-optimized content is the prevention of duplicate content. If you want your website to rank at the top, you must always use original content.
Also, try to avoid keyword stuffing because it can prove harmful. In fact, Google can penalize your website for it.
Technical SEO
Just like on-site and off-site SEO, technical SEO also contains a lot of importance. Everything included in technical SEO is a mixture of all the other tips given for improving your SEO rankings.
Some of the most recommended tips for technical SEO include adding keywords to your page titles. It's because the page title is the first thing that the search engines look at when crawling the websites.
Use header tags and maintain the hierarchy by adding the keyword in h1, h2, and h3 for subheadings and simultaneously.
Add a meta description to catch the user's attention, keeping them to a maximum of 160 characters only.
Use your keyword phrases in the alt tags of the images to be relevant to your content.
Always add your address
Like any other business, you must have an address, and if you do, then the other important thing is that you make sure to mention the address on your website. Your address is also considered a significant factor to get your website ranked at the top. Make sure that the complete name and address of your company are available online.
Also, your business is listed on Google and all the other important social media websites like Facebook and Instagram. Another thing to make sure of is the reviews and their presence.
Linking is important
Whenever SEO rankings are discussed, linking has always been recommended to achieve the required SEO ranking goal. The entire web is built on the idea of links, so it is a natural phenomenon that will be included as a ranking factor.
There are three types of linking that is used.
Inbound linking
Outbound linking
Internal linking
Inbound Linking
Linking is one of the most authoritative ways to check the relevance of your content. Inbound linking is also known as 'backlinking.' Backlinking is when a High Authority website links back to your website content.
Getting few high-authority links with your website is better than getting many low-quality domains linking back to your website.
Outbound Linking
Simultaneously, you should show your users that you are creating the best quality content for all the visitors that come to your website. This means that you use outbound links. Outbound linking is done by linking relevant but authoritative websites in your content.
One example of an authoritative website is Forbes. Forbes is an authoritative website, but it should only be used to have relevant content to the one present on your website. It helps you provide the most value to your audience and shows your website's relevance and content.
Internal Links
The third type of linking is known as internal links. In simple words, internal linking is linking your content to the various pages present on your website. Linking your pages to other pages of your website helps your visitors view your website's different pages and increases the traffic to those pages.
It shows multiple benefits that help you make your content relevant by getting traffic on it, and it also helps with the search engine ranking.
There are online guides that guide you through the essential steps you need to get started on these various types of links.
User Experience (UX)
Search engines like Google use artificial intelligence for ranking web pages. This is known as signal RankBrain. User Experience is not just measured in terms of the convenience that a user gets while going through your website, but it also depends on other factors like the CTR, bounce rate, and the time visitors spend on your website.
CTR is known as click-through rate, which is the percentage of people who visit your website after it appears in the search results.
The other element that is used to measure the user experience is the bounce rate. Bounce rate is the number of visitors who visit your website and then go back to your website.
The last element used to measure the user experience is the amount of time visitors spend on your website before leaving it.
If none of these numbers show a positive sign that the users prefer your website, it means that Google will believe that it is not fulfilling its users' requirement, pushing you down to the end of the search results. On the contrary, if people visit your website for a long time, and the bounce rate is low, the search engine considers your website as most relevant, giving you higher search results.
Even after you have followed all the required rules to improve your rankings and are still facing a drop in them, there might be various reasons for this. It is not always possible that you might be doing something wrong; several other factors might be contributing to it.
But let's look at the various reasons that can result in your rankings' droppings and how you can solve them to save yourself from it.
Possible problems and solutions as to why your SEO rankings dropped?
There is a combination of problems that cause the SEO rankings to drop. These can be a mixture of on-site, off-site, and technical SEO issues that can lead to this problem.
Your website is not updated for a long time
It may not be necessary to update your website regularly. Still, it all depends on your niche whether you should update your website periodically or after a particular time.
It is better to do a competitor analysis and see if your competitors are updating the website regularly; if so, then you should be putting in the exact amount of effort and updating your website as required. But apart from that, it is pretty evident that if your website remains stagnant for a considerable period and nothing is being updated on it at all, there will be consequences for you.
Solution
Even if you are not interested in updating your website with a lot of content, it is advisable to update your website with some blogs occasionally. This ensures the search engine that the website is not dead after all.
A change in the website's design
Two important things need to be kept in mind while maintaining a new website. That is crawlability and indexability, and both are required to make sure that your website appears in the search engines' search results like that of Google.
Updating your website's design will not affect the website's ranking, but if you have redirected it to a new link, there will be interference with the search engine's primary functions.
Also, suppose your website is made in a programming language like the JavaScript-based design interface. In that case, it can restrict the search engine from indexing the pages, and all of this only means that your ranking eventually drops.
Solution
The easiest way to solve this problem is to hire an SEO expert who knows the website's right options and can get all these problems sorted out. A developer is more concerned with the website, but an SEO expert knows his way around the rankings' essential things.
No prominent changes to the content
The presence of irrelevant content on your website can also lead to the fall of the website's ranking. Content present on a website requires continuous updates, and it needs to have all the required elements necessary to make it optimized. If there is no linking of any sort, no keyword use, no limit, and no quality of the content, it is better to delete it than keep it.
As discussed above, the more the content is optimized, the easier it is to get your website ranked among the top search results of a search engine's search results.
Solution
The solution to this problem is quite simple: ensure that the content present on your website is updated according to SEO content requirements. It should contain your keywords, outbound, inbound, and internal linking, and avoid duplication of content in any case.
Indexing issues caused by Robots.txt file
A very commonly faced problem is regarding the robots.txt file. Although it is simple, the users need to be sure of how and when to use it.
By mistake, the website owner has disallowed the crawling and indexing of all the website pages due to an improperly configured robots.txt file; it can cause trouble concerning the ranking and a decrease in the traffic coming to the page.
Solution
Ensure that you learn about what the robots.txt file is and the proper way to use it. Ask for a developer's help if needed but see that the right words and the right options are selected to ensure indexability to promote traffic and the website's ranking.
The reasons mentioned above are the on-site reasons why a website's rankings drop, but these are not it. Look at the various off-site SEO reasons that sometimes contribute to the dropping of the SEO rankings.
Removal of linking from the content
It has been mentioned above that linking is a severe factor in deciding about the SEO ranking. If any kind of linking is removed from the content that you have published on your website, this means that your content will no longer be considered original and authoritative as it might have been before.
The traffic will decrease as well because now your visitors will not consider your content authentic. They will start choosing websites linked to other websites because they will build a stronger trust with them and not you.
Solution
Ensure that you apply the three types of linking: inbound linking, outbound linking, and internal linking, proving that your website is authoritative. Your content is relevant and can be trusted by your audience and the search engines, eventually helping you in the SEO ranking.
The sites you linked to are down
This is a common problem that anyone has to face. At times, the sites you have added the links to in your blog are permanently down for some reason by the website's owner.
They can be down for maintenance, for rebuilding the website, and it is also possible that the website is closed and will not work again.
This issue can cause a loss of traffic and rankings towards your website, making you suffer because of these links that won't get any traffic, but they will harm our website.
Solution
The only solution to this problem is to keep checking if the links are working correctly and change the links that are down to prevent the loss of traffic and your SEO ranking.
The linked sites no longer receive traffic
There is a possibility that the sites you linked to were maybe violating the rules set down by search engines like Google and were later penalized for it.
If you do not know and something like this happens, it could cost you all the traffic you were receiving and contribute to the SEO ranking fall.
Solution
The only possible solution to this problem is that you need to keep checking the links once in a while. It might be a time-consuming process, but you will get to know about the links that are no longer working and need to be replaced with new ones.
A timely step can help you avoid traffic problems by getting the same traffic and getting back your SEO ranking.
Changes in search
Now there were problems caused by the website owner, but some issues are not caused by the website owner but are caused by the system.
One such is the changes in the search. You might be doing everything by the book, but you still observe a drop in your website's rankings. You don't need to worry about it, which might be because of a change in the audience's searches.
As the search engine's responsibility, they are bound to make changes according to user behavior's demand. Due to this change, your website's ranking can drop.
Solution
A simple solution to this problem is keeping an eye out on Google Trends to know if there are any changes you need to know about and understand what relevant content you should add to the website.
Speed of the website
The speed of the website also matters a lot. You have the potential to get a lot of traffic for your website, but you are not able to do that. Why? Because the different pages of your website are taking a lot of time just to load.
When websites pages take a longer time to load, it can affect the traffic coming to your page and affects the rankings and the user experience. This means that the bounce rate of the website will be higher as well. Having the relevant, optimized content and the best design is useless if it takes longer to load.
Solution
Make sure to keep checking the speed of your website through different yet useful tools. One of them could be Google's new PageSpeed Tool. It can help you analyze your website's actual loading speed and what page speed you need to improve for better rankings.

Key Takeaway
Yes, many problems can cause a drop in your SEO rankings, and while there are some that you can control, there are many that cannot be owned by you at all. The only consequence is not just the drop in the rankings but also a significant drop in traffic.
However, the good news is that at least you can solve the ones controlled by your end to make sure that your website starts ranking in the search engine's search results' top results. But it will eventually take some time, so make sure that you give your best and wait until you get at the top of the search results again.
---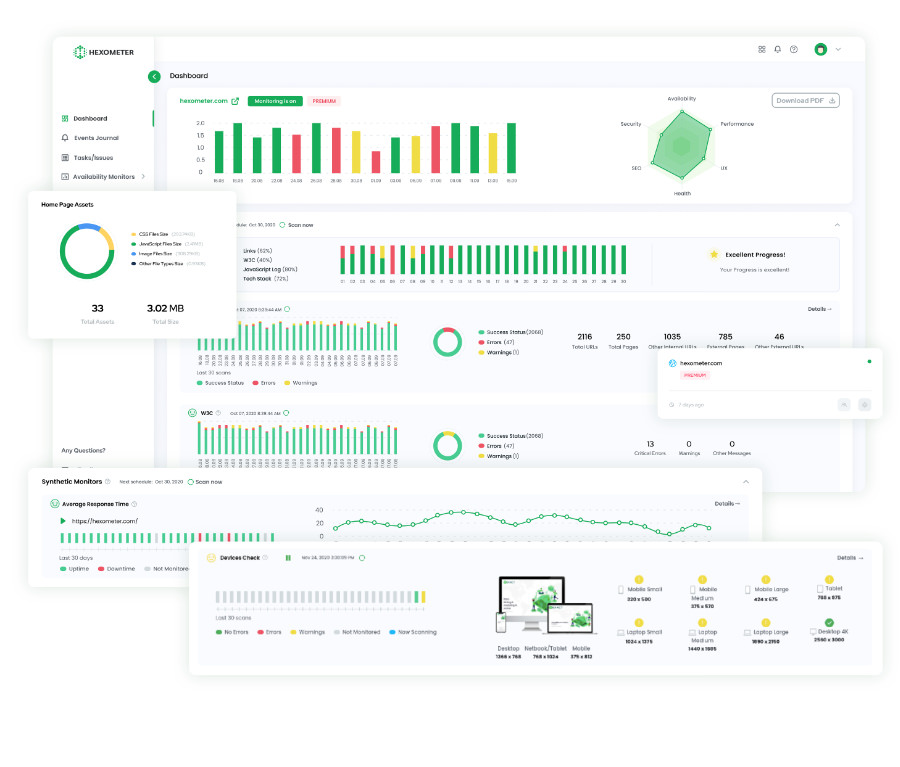 Catch website problems before they affect your customers
Every day your website can face an increasing range of threats. Server problems, slow landing pages, broken links, frustrating mobile experiences, embarrassing spelling mistakes, changing SEO rules, 3rd party services breaking, or security issues that put your business at risk.

Hexometer is like having your own QA team, monitoring your entire website 24/7 for availability, performance, user experience, SEO, health and security problems so you can focus on your business. Now that's peace of mind

Get started in minutes – no software, proxies, or programming required