Online businesses are taking over the digital world by storm. Several platforms make this transition even easier. And one of the most widely used platforms for online stores and businesses is Shopify.
If you're a business owner, you might already know that. However, you might not know that there are more than 7000 businesses using Shopify Plus to run their business. So what does that mean for your brand?
In simple words, it means that you need to optimize your Shopify website to increase your sales and perform even better than it is performing at the moment. After all, Shopify is the only platform with a promising conversion rate of 1.6%. In this way, Shopify has been able to stand successfully against all of its competitors and keep itself updated with all the latest practices to help the companies improve their business and attract more customers.
However, with an increase in the use of something, it goes through frequent updates to match the fast-paced environment. And this is precisely what is happening with Shopify. It is now looking at the SEO practices that it could follow and benefit its users. And today, we will discuss how to optimize your Shopify website best.
So, without any further delay, let's look at the checklist for Shopify SEO.
What is Shopify SEO?
When talking about SEO, you must be clear about the different elements that make up a strong SEO presence. These include technology, relevance, authority, and trust.
While relevance talks about the created content catering to your customers' needs and should satisfy their needs, authority and trust speak about the authenticity and surety that all the personal information they share with you will be safe at all costs.
The most important one is a technology consisting of different small yet vital practices that are necessary to satisfy the requirements of the search engines. So they can understand the content and increase its ranking on the search results page.
So while you might be following the basic SEO practices, putting a little more effort into these additional points can significantly improve your website's SEO.
Let's get into the details of these additional practices and what you can do more to improve your website.
These recommendations are enough to cover all the remaining aspects of search engine optimization. But remember that the responsiveness of the website, including the design and how mobile-friendly it is also helps with the improvement in the rankings.
Meta Information
The meta-information refers to the page title and the meta description. They play a significant role in page ranking. That's because it's the snippet that people can view on search engines when they search for your website.
A good page title is easy to read and contains your primary keywords along with a clear call to action. The length varies between 285 to 575 characters, respectively, which are around 30 to 60 words.
Similarly, a good meta description is to the point, straightforward and answers the query within 70 to 155 characters.
Understand how Shopify generates title and meta descriptions for different content types.
Collections
Shopify generates the title and meta descriptions for the collections themselves. There is a set way in which it generates the meta-information. This is primarily based on the content that you've written. So make sure that the content is suitable for the uploaded collection.
Tags
You can not customize the titles and the meta descriptions. It's because Shopify generates them automatically, and it also does not offer a central place to manage these tags. The same goes for the products as for the collection content type.
Blog Articles
Just like Shopify generates meta-description for different collections and tags, it also creates an automatic meta-description for the blog articles. However, the character limit is 320 characters. After that, the description is automatically cut off. This rule applies to all the content types because Google only has a 320 character limit for the description.
Shopify provides you with templates.
This is an added-on feature of Shopify that provides templates for the title and the meta description for all the products. Since the need to do it manually finishes, that saves up a lot of time. There are specific applications that Shopify uses for providing these templates. However, you do have an option to define the templates.
The next question which arises is about the addition of meta keywords.
The search engines have not used meta keywords for a very long time. The best practice is to avoid using meta keywords. Instead optimize pages for the relevant keywords by adding them in the headings, meta description, titles, and body content.
All in all, Shopify's meta information management templates do the work for you. Still, you can also use applications to do that.
Headings
Headings are very helpful for the visitors and the search engines. They provide a quick idea about what kind of information is present on the page.
There are particular suggestions while dealing with the headings on various pages.
Always build a hierarchy of your heading structure to avoid confusion.
Try to keep the length of the heading restricted to a maximum of 60 characters.
Avoid wrapping logos and images in H1 heading tags.
Try to limit yourself to one H1 heading per page.
Avoid using headings for the elements that are present on all the pages.
Avoid applying H2 headings to the product names present on the collection pages.
While building a website, you have to choose a Shopify theme, and the theme then decides how the text will be placed in the headings. There are a limited number of options available in almost all the themes and show the content type in the H1 heading. You can add additional headings, but it is better to be to the point.
Shopify gives plenty of control over the headings sections, so you can add the headings as you want by following the best practices.
Optimizing Images
An essential practice for SEO is that you optimize the images as it helps in the organic search. Also, the optimization of images is significant for eCommerce businesses to load very quickly.
When potential buyers search for something online, they look into the images and decide what they would buy. Imagine if, in a situation like this, the images of your products do not load; this means you have lost a buyer.
You can apply different practices to ensure image optimization. This would mean that they load faster, increasing your sales and conversions.
You can add the images in your XML sitemap.
While you add an image, write the image alt attribute and ensure that the text describes the image and the product in precise words.
Resize the images as per the dimensions mentioned and use a descriptive name for all of them.
Always compress the image. If the size of the image is more, it will take a lot of time to load.
You can also serve images through a CDN.
What are Images and XML sitemaps?
As mentioned above, you can add the images to your sitemap. This practice helps the search engine to find the images you add and index them easily. There are, however, drawbacks of adding the images of your products in the XML sitemap.
It becomes difficult to track the number of images that you indexed in the product XML sitemap. The best solution is to have a dedicated XML sitemap that is just for the images.
The second drawback is that Shopify only includes one image per product in the XML sitemap, which can cause a problem in the discovery and the indexing of the other images. To help you with this problem, you can use the Image sitemap app provided by Shopify.
There are numerous Shopify and other third-party websites and applications that allow you to compress the images and then upload them. Some of them can also help to create the image alt attribute.
Suppose you are not operating a huge business. In that case, the standard features by Shopify should be enough for you. Still, if you are running a big eCommerce business, you should have more control over image optimization that can be done by yourself and various applications. Hence, you do not need to install and take help from third-party apps for this.
Managing URL Redirects
The recommendation is to choose the 301 redirects that Shopify creates automatically. You can manage all of these in the redirect manager. You can also import, and export redirects through the redirect manager and is one of Shopify's most known benefits. This feature can also be used when you are migrating to or from Shopify as well.
There is a known drawback of this feature: it does not allow you to set up the redirects using Regular Expressions (RegEx), meaning that you have to add them manually or generate them yourself, which you can later import.
Not being able to do that through RegEx means you have to define multiple redirects yourself while; all of this could be done with a few lines of RegEx in the web server configuration, but there are ways you can use to manage all the redirects in Shopify. Shopify support team does say that it can support up to 100,000 redirects.
Although a lack of support for the redirect links can require a good amount of labor and can be extremely time-consuming, it is not that much of a problem and can help you with your search engine optimization.
Loading Speed of the Website
You are already aware that Shopify is a hosting service for websites that uses a powerful CDN. With Shopify, you choose a theme, upload all the images and the data, might install all the useful and required applications, and then load your website, but with the addition of so many things, there is a chance that the website might slow down a bit. That is a concern that can be addressed in the most simple and easy ways possible.
Read below the recommendations and learn how you can optimize the loading speed of the website.
When you choose a website theme, many things and applications will come with it, and nothing can be done about it. The solution to this problem is that instead of choosing an already made theme, you go with a custom theme. This way, you will be in control of everything present in it. Due to a lack of budget, try getting a lightweight theme.
Shopify's themes are very responsive, but there is just no quality control when talking about speed.
The images you upload must be optimized and of less size with proper alt attribution. Stick to those simple and basic rules to avoid slowing down your website.
There are a lot of tools available to help you improve the website's speed. They analyze the pages quickly and provide you with a checklist to improve your images. If you're looking for these tools, we recommend using Shopify's online store speed report and Google's PageSpeed Insights as they are easy to understand and can help you the best.
But why is it important? Well, that's because the speed of a website is a significant factor impacting its ranking. That's because people are more likely to close off a tab if the website has a slow loading speed. One second delay in the website's loading can impact sales, like reduced page views by 11%, so it is an essential part of the user experience.
Yes, different applications are helpful when it comes to doing various tasks, but you should avoid applications on Shopify as much as you can. It is one of the most common reasons why the Shopify stores load slowly.
So, if there is an extreme urgency to add applications, only add the ones that you need and can be removed later.
The simple activity related to tracking is to move all the tracking scripts to Google Tag Manager to reduce the number of requests that the page makes.
No doubt that Shopify is a high-speed hosting platform used by numerous companies for their websites; keep in mind that by following some of the recommendations mentioned above, you can improve the speed of your page even further.
A URL is essential since it helps both the visitor and the search engine in navigating the website. The URL should be easy to read, to the point, consistent, and should be all in lowercase.
Shopify's URL structures are already fixed; the only part they allow you to change is the 'slug' which is the last part of the URL.
But before we further explore the URL structure of different content types, it is essential to know how people reach your domain.
Domain Canonicalization
There is a concept of domain canonicalization which means choosing one way to access your domain and then communicating it to others. Because of how people choose to access a website's homepage, it is essential to know the different ways of how to reach a website's homepage. There are four ways to do so using a combination of HTTP, HTTPS, and www.
So, you can choose any URL of your choice for your domain and set up your entire Shopify website. This will result in all the non-preferred URLs 301 redirecting to the chosen URL, solving your issue.
Talking about the URLs of different content types (collection, tags, and products), as mentioned above, there is not a lot that you can change. The URL structure is pretty much fixed; you can only change the slug, which is the last part of the URL, according to the content type you want. There is not a lot to worry about because it does not have a strong impact on your SEO as your internal linking structure needs to lead in this aspect.
But what if the product is present under a different URL?
It can lead to the backlinks placed with the wrong URL, create confusion, and send the wrong signals to search engines regarding the URL they should crawl and index.
There are ways to fix it, and you can start by updating the theme's code directly to the canonical URL, stopping Shopify from linking the product's URL that is canonicalized. If you know how to do it, then you should; otherwise, you can take help from Shopify's expert network as well.
Moreover, there is a significant drawback when creating URL links for different product variants. Basically, when the variants of a product are added, Shopify adds the 'variant' part at the end of the URL, which can be easily saved and used, but it is not preferred for SEO because it will neither be indexed nor be ranked by the search engines.
To help with Shopify SEO, it is recommended that you create the variants as separate products and get separate URLs for them which will be indexed and crawled by the search engines and help with the optimization.
Apart from the URLs from the content types mentioned above, there are other pages, including "About Us" and "Frequently Asked Questions"; even their URL links are created in the same way.
Shopify's URL structure is not very impressive because the URLs may become hard and difficult to read; make sure to follow the suggestions for all the new pages you create and check if you can fix the ones already mentioned above. There are some problems that you might come across but nothing that cannot be fixed.
Now, since we are done with the basic SEO checks, it is time to move on to some technicalities and ensure that SEO essentials are covered from that aspect.
Crawling and Indexing directives
In simple words, crawling and indexing directives help the search engines understand what needs to be indexed and shown in the search results. To do this, you should be sending consistent signals to the search engines, and there are multiple ways to do that.
Meta Robots Tags
These meta robots tags tell the search engines about the pages that do not need to be indexed and the links that should not be followed because Shopify does not provide this functionality. This is usually done when you copy text from one page to other pages for the convenience of your visitors but do not want it to create problems with the search engine's search results and SEO.
There are two ways that this can be done. One is by changing the codes, and the other is where you install an app that helps add a setting for this purpose in Shopify's admin console. The second option is known to be more user-friendly and safe.
Canonicals
There might be various versions of a page, and canonical URLs are used to mention the search engines about the version that needs to be considered for ranking purposes. That canonical version will then be assigned the true relevance and authority.
Shopify does help with duplicating content and providing self-referencing canonicals that help to point out the URL variant without parameters. There are some other situations when Shopify uses canonical URL like:
When it is preventing duplicate content because the products are available under multiple URLs
Product variants are used.
For several paginated pages.
You can adjust the theme's code because Shopify does not have any options within the Shopify admin console for adjusting the canonicalization preferences as it is available for products with different URLs.
Pagination attributes
Different pagination attributes signal the search engines about the content that is spread across the pages. These pagination attributes might not be used for some time, but they are still instrumental because of the following reasons:
While Google might not use pagination attributes, Bing uses them to understand the pages that are part of the series.
They are helpful inaccessibility.
They help the browsers in prefetching, which in return helps to increase the speed of the website.
It also helps Google discover content.
It is advised that you check the Shopify theme before purchasing them to know which supports the pagination attributes and does not have a better idea.
Robots.txt
Robots.txt is a file containing engagement rules for the crawlers, guiding them about the pages they cannot access. Without a robots.txt file, the crawlers can do whatever they want. It also references the XML sitemap, which means that it is easy for the search engines to find it.
Shopify has default robots.txt for every store running on their platform. It helps prevent the crawlers access to the account, checkout, and other essential pages that a user might not want to duplicate content issues. While this might be acceptable for some, it can be limiting for others depending on your need and requirement.
XML sitemaps
XML sitemaps effectively communicate with the search engines about the content present on the website, which should be crawled and indexed. Although search engines look for XML sitemaps, you can also submit them through Google Search Console.
There are drawbacks of the robots.txt file, which include no separate sitemaps for images and videos, and you cannot change the XL sitemap or the content present on the. Using an application can help you have more control over what is included in the XML sitemaps.
Shopify is better because it provides its users with a few options on how they can customize this by playing around with the codes and additional applications.
Structured Data
In simple words, structured data is the data that is aligned and organized in a particular way. The presence of structured data and the tools helps the search engines understand the content and helps you by rendering enhanced snippets that will make you stand out on the search engine results page. You can use Schema.org for this purpose.
It is possible that the theme you chose has the Schema markup in the theme but only if you have filled in the information of the company and the product's information. If not, ask a technical expert to do it for you.
Other examples of structured data are 'open graph' and 'Twitter cards.' They help you in controlling the snippets when the URLs are shared on social media. If the snippets look appealing, it proves to be very beneficial.
Shopify re-uses what is written in the homepage title and its meta description in the case of your homepage. It adds it based on the collections and the product properties you already set, even for the collection and product pages.
Laslt, Shopify provides a lot of help in structured data and allows the user to customize the theme and add the applications according to their use.
Internal linking and site structure
If you want your website to rank well, it must have a logical build-up. Even though Shopify and other platforms have defined hierarchies are different, various ways can be done.
On the other hand, Shopify does offer a lot of functionality for managing menus. Use the nested menus system to arrange the sub-collections properly.
Breadcrumb navigation
Breadcrumb navigation is when you can see your location within a website's structure and easily navigate the different parent pages.
A lot of themes do offer the breadcrumb navigation option. If your theme does not have the breadcrumb navigation, you can check out different tutorials that can help you in this regard.
Product filters
Faceted navigation or product filters are essential as they show you how a visitor navigates the products you are offering through filtering and sorting. It is a little difficult to understand but once understood can really help in SEO.
The best practice in this is that you make facets that the search engines can access. However, since you cannot do this through Shopify, create collections to group the products that your potential buyer can find, accessible by default for the search engines. They can be kept away from crawling and indexing duplicate content.
HTML sitemap
As a website that is working towards search engine optimization, you must help out the search engines in every way to help them discover, crawl, and index the right pages and the correct content. HTML sitemaps greatly help in this regard.
The best recommendation is to create an HTML sitemap that is linked in the footer navigation. You can have complete control over the sitemap's content by manually and even creating a separate page. You can then list all the essential products and services and the categories in which Google or any other search engine ranks it.
Different applications can help you in this regard, like the ones used in various other aspects.
Although Shopify does provide you with some control over the site structure, it is not enough if you are moving towards more advanced SEO, as it requires more control and customization.
Client-side Javascript
The most important thing in SEO is getting the search engine's attention and adopting all those practices that make it easy. With all the updates and new technologies, search engines can render JavaScript. Still, we recommend using server-side rendering solutions. You can also use regular HTML to facilitate the search engine's crawling and indexing process.
The rendering of Javascript requires resources; therefore, search engines prefer it less. Due to this, the search engines may take weeks to crawl and index the entire website fully. It is important to remember that the indexing of the content is essential if you want to rank.
While you choose a theme or create a custom one, always be careful about JavaScript rendering and never rely on it, making it easy for the search engines to know about your content.
Some practices to improve
Different applications can be used to help with Shopify's shortcomings and act as a bridge between Shopify and search engines and visitors, allowing you to modify the content your clients receive. They can perform the following tasks for you making your life easier.
Allows you to take control of the crawling and indexing directives.
Adjustment of the XML sitemap to include the canonical URLs.
Adjustment of robots.txt files allows the crawling of selected paths only and makes the faceted navigation better and accessible to search engines.
Change your URL structure by rewriting it.
Modifying HTTP headers.
The collection of log files for a better understanding of how search engines crawl and index a website.
The use of these applications may increase your website's complexity; therefore, you must have a development team ready to help you out and find a solution to every problem you will face.
SEO Analytics Tools
Moreover, you must install the essential tools to help you with SEO and these practices further. These tools are the ones by Google and are very effective. Google introduces tools enriched with the best practices; therefore, it is beneficial to use these tools actively.
Google Analytics
Google Analytics is a web analytics service to help you measure all the essential metrics of your website. Resolving these can help increase your website traffic and other aspects of your website.
Google Search Console
The second tool to use, along with Analytics, is Google Search Console. Web admins use it to keep track of how their website is performing and whether Google has crawled and indexed the website along with the problems it had to face.
There are various other tools other than Google tools that you can explore and use to help you with different aspects of search engine optimization. Moreover, you should also have an SSL certificate installed on your website to ensure its authenticity and accuracy.
Key Takeaway
Like any other platform, your Shopify website should also be optimized for the search engines.
Want to stay ahead of the SEO game? With Hexometer you can monitor your availability, performance, SEO, user experience, health, and security 24/7 and get notified as soon as issues are detected.
---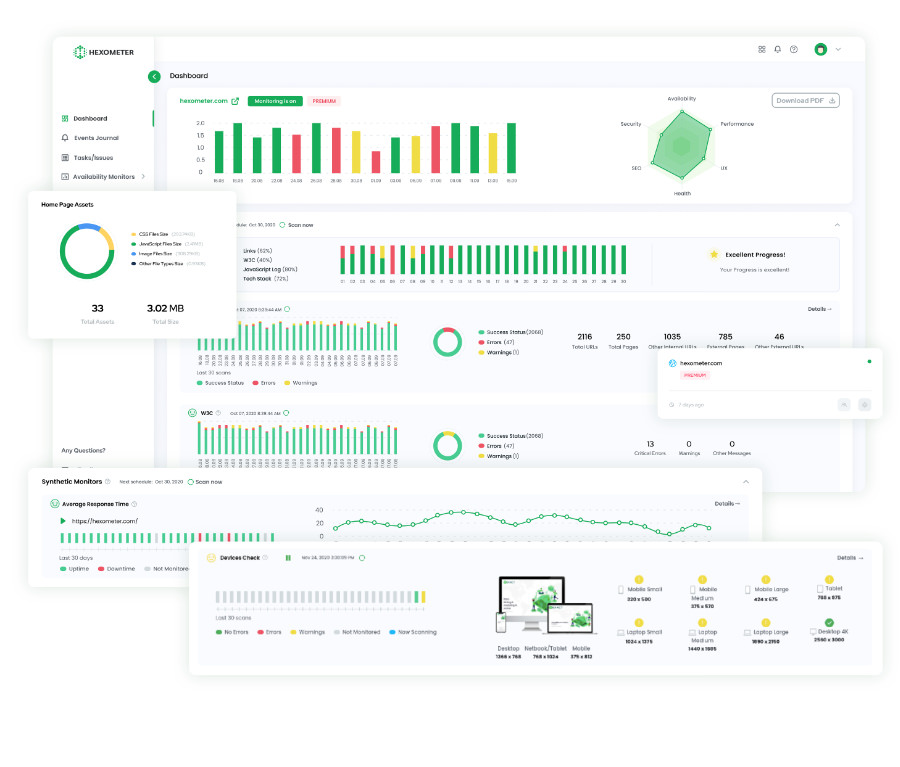 Catch website problems before they affect your customers
Every day your website can face an increasing range of threats. Server problems, slow landing pages, broken links, frustrating mobile experiences, embarrassing spelling mistakes, changing SEO rules, 3rd party services breaking, or security issues that put your business at risk.

Hexometer is like having your own QA team, monitoring your entire website 24/7 for availability, performance, user experience, SEO, health and security problems so you can focus on your business. Now that's peace of mind

Get started in minutes – no software, proxies, or programming required