In this tutorial we will walk you through how you can start monitoring your website in minutes, without any code changes required.
To get started, simply create a new property by adding your website domain and click confirm.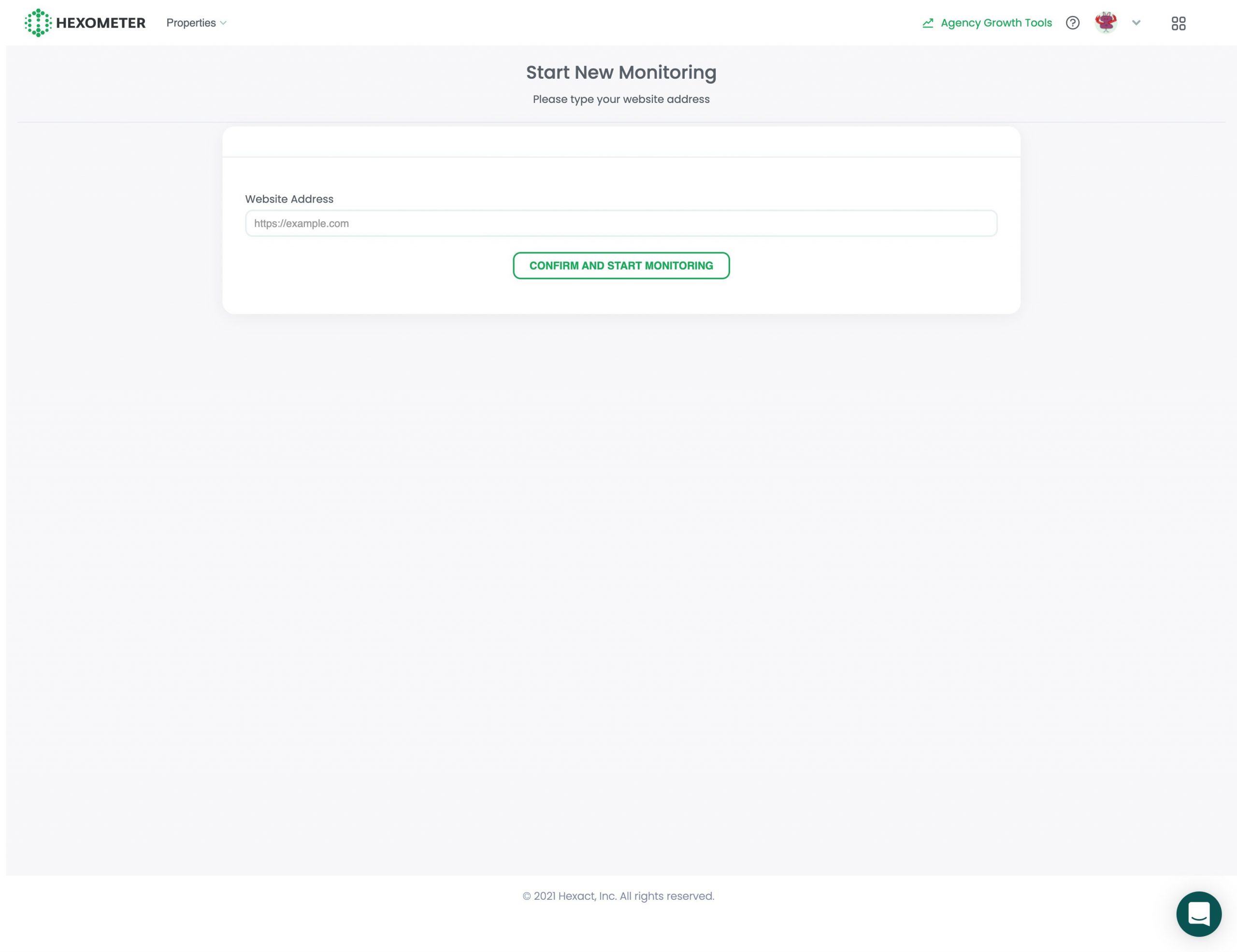 Hexometer will now start monitoring your entire website for availability, user experience, performance, SEO, health and security issues.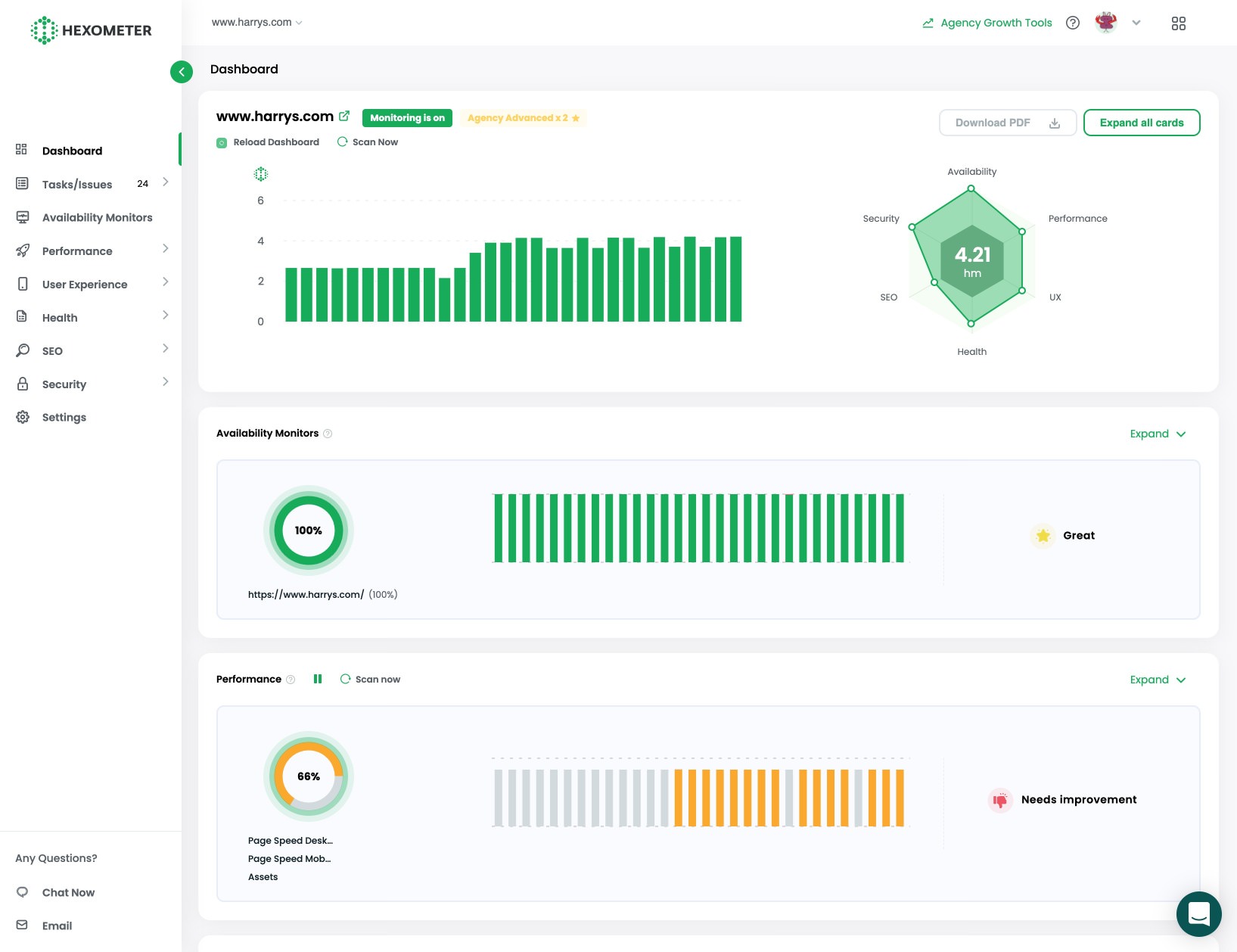 Next we recommend reviewing the settings section so you can configure how you want Hexometer to work and how you want to be notified when issues are detected.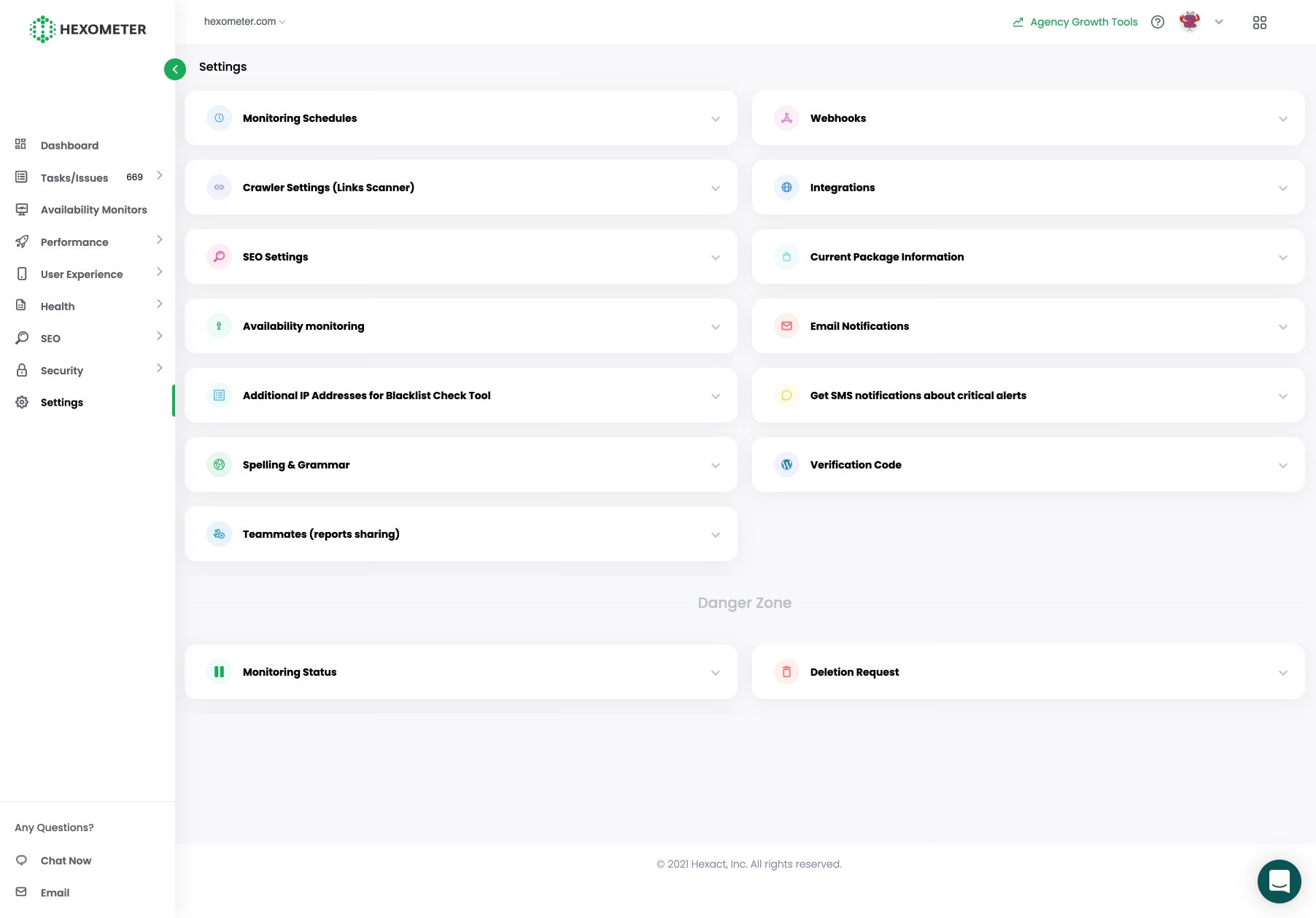 Let's cover some of the most important parts we recommend configuring first:
Integrations
First let's start with the integrations panel, here we recommend connecting your Google Search Console account, this will enable our smart crawler to perform smart checks on your new or updated pages. This integration also allows you to see your Google search performance inside the SEO section of Hexometer.
Next, you can connect Telegram, Slack or Trello or your web browser to receive real time alerts in your favourite apps.
Hexometer also integrates with Zapier, Pabbly connect or Integrately via our API or webhooks. This allows you to pass Hexometer alerts directly to thousands of compatible apps.
Crawler settings
Depending on the size of your website and your hosting resources you can tweak how many pages Hexometer checks at any one time. If you use shared hosting we recommend the low setting which crawls one URL at a time with a delay. For websites with dedicated server or cloud resources you can increase the intensity to speed up our crawls.
You also have the option to stop our crawl at any time.
Next you can also configure specific URL parameters Hexometer should ignore. This is ideal if you notice Hexometer trying to check dynamic pages such as your add to cart pages or dynamically generated resources you don't want to check.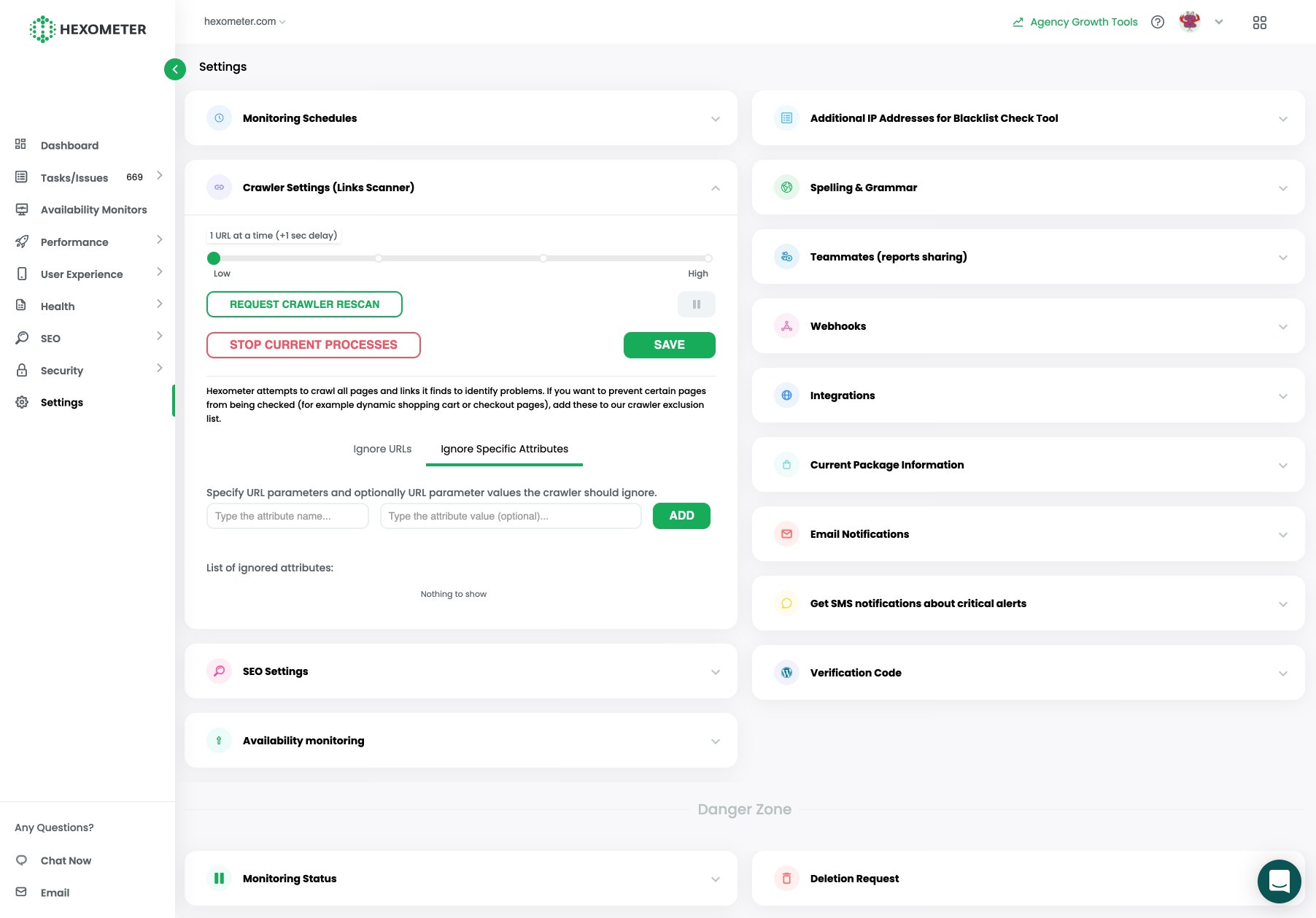 Spelling and grammar
Next we recommend setting the language of your website, as well as any brand terms so that Hexometer can learn their spelling and not flag these as mistakes.
Email notifications
In this section you can specify who in your team should receive alert notifications.
You can specify whether to enable or disable notifications as well as opt for critical alerts only for the account holder as well as up to two additional users.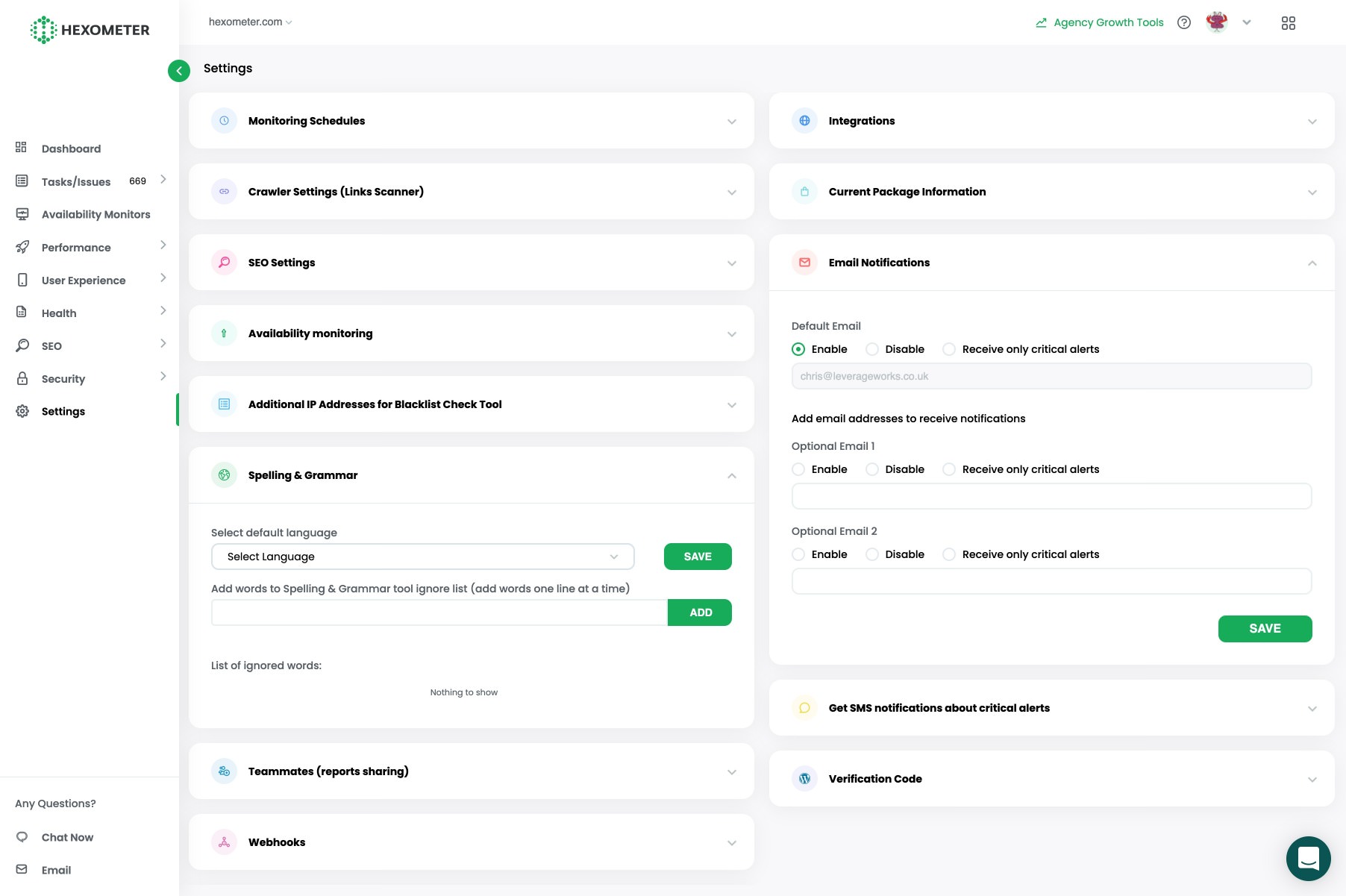 Hexometer also provides a range of other configurable options that are set at optimal levels but that you can tweak to your needs.

If you need any help, don't hesitate to get in touch with our support team at [email protected]
CMO & Co-founder
Helping entrepreneurs automate and scale via growth hacking strategies.
Follow me on Twitter for life behind the scenes and my best learnings in the world of SaaS.